Temporary shelters popping up alongside camping tents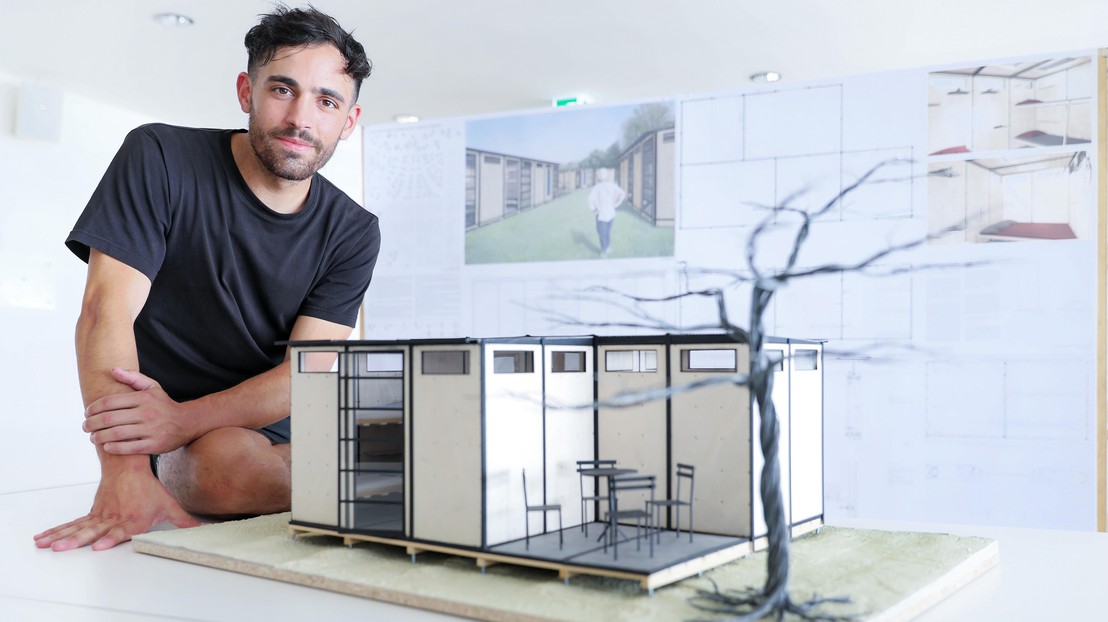 Série d'été: Using the Paléo Festival in Nyon as a case study, an EPFL student has developed an innovative alternative to the types of temporary housing commonly seen at multi-day events. His modular wooden cabins, which he created as part of his Master's project in architecture, are designed to meet a growing call from festival-goers for more comfortable and environmentally friendly accommodations.

Charles Jenny, who just graduated from EPFL's Master's in architecture program, chose temporary housing as the topic of his Master's project, using the 2018 Paléo Festival in Nyon as his case study. "I wanted my project to result in something tangible," says Jenny. "And I'd love to turn it into a startup, which is why I also included a business plan." He started out by studying the various types of temporary housing currently used at festivals to accommodate staff and the public, such as tents, pop-up chalets, yurts and camper trailers. He used life-cycle assessments to determine their carbon impact and considered other criteria such as storm resistance, comfort, cost, portability, space efficiency and the ease with which they can be set up and taken down.

It turns out that each type of housing has its shortcomings. Jenny found plastic camping tents to be the most problematic, and not just because of the material they are made from: they compress the ground on which they're set up, and they're sometimes left behind on the site as if they were disposable. People of varying ages who travel across Europe in the summer and visit festivals may also be discouraged by the need to bring and set up their own tents. Based on his findings, Jenny came up with a new, more environmentally friendly housing solution that tallies with festival-goers' needs: a raised, modular wooden cabin that can be easily assembled, disassembled and reused.
Maximum efficiency
"The pop-up concept is ideal for festivals but could also be used on a larger scale," says Jenny. "Not only would it work for all sorts of private events, but it could also provide emergency housing for victims of natural and humanitarian disasters." For his Master's project, Jenny was advised by assistant professor Corentin Fivet, full professor Thomas Keller and lecturer Loïc Fumeaux.

Jenny adds: "The organizers of festivals and other multi-day events would be able to order what they need through an app, selecting the level of comfort and the number of beds and accessories they want for each unit." Jenny completed an internship in Copenhagen, and his cabins reflect the minimalist Scandinavian design. They can be linked together in rows through a simple turn of a screwdriver thanks to a system of eccentric cam locks – like those found in prefabricated furniture – on the cabins' sides. Individual units can be carried by two people and hand assembled, and the interior furnishings are practical and efficient. Each cabin can hold a double bed or up to three singles arranged as bunk beds. Once disassembled, the panels can be stacked in a truck, making them very easy to transport. Up to 60 beds can fit on a single truck.
Natural ventilation and light
"What's really innovative about my design is that it is highly efficient and architecturally appealing without sacrificing comfort," says Jenny. "Existing solutions are not particularly attractive, have to be imported from other countries and often have few – if any – windows." Each module consists of three or four cabins and features vertical joints to keep out the rain and a small common area that encourages neighbors to interact. While door slats, side windows and a skylight let in natural light and fresh air, the side panels provide both sound and heat insulation.
A new market
On 8 July, Jenny presented a 1:10 scale model of his design to a panel composed of EPFL professors and Thomas Hänni, who has been in charge of camping facilities at the Paléo Festival for the past 13 years. While the professors went so far as to challenge Jenny's underlying premise – would such a minimalist design fit in with the rock 'n' roll spirit of the Paléo Festival? – Hänni had no such doubts. He noted that all festivals in Europe offer some sort of makeshift housing in their camping areas, and the market is growing fast.
Paléo recently set up an area for temporary housing called "Camping Pal'Asse" in response to growing demand. "We went from a capacity of 350 beds in 2017 to 450 in 2018 and 550 this year. The cabins range in price from 28 to 100 francs per night and are just right for people who don't want to bunk down in a tent, such as grandparents with their grandkids." That said, around 6,000 people still tent camp at Paléo.
The end of an aura?
Paléo imports its temporary housing from England, since it cannot find an equivalent solution locally. "These companies are active all over Europe, supplying 30 or 40 festivals throughout the year," adds Hänni. Is camping at music festivals losing its aura? Says Hänni: "The European music festival with the most pop-up housing is Hellfest" – a major heavy metal festival in France. "It draws people of all ages, and its rock 'n' roll spirit is beyond question."
---
---