More soil, less concrete: changing mindsets in construction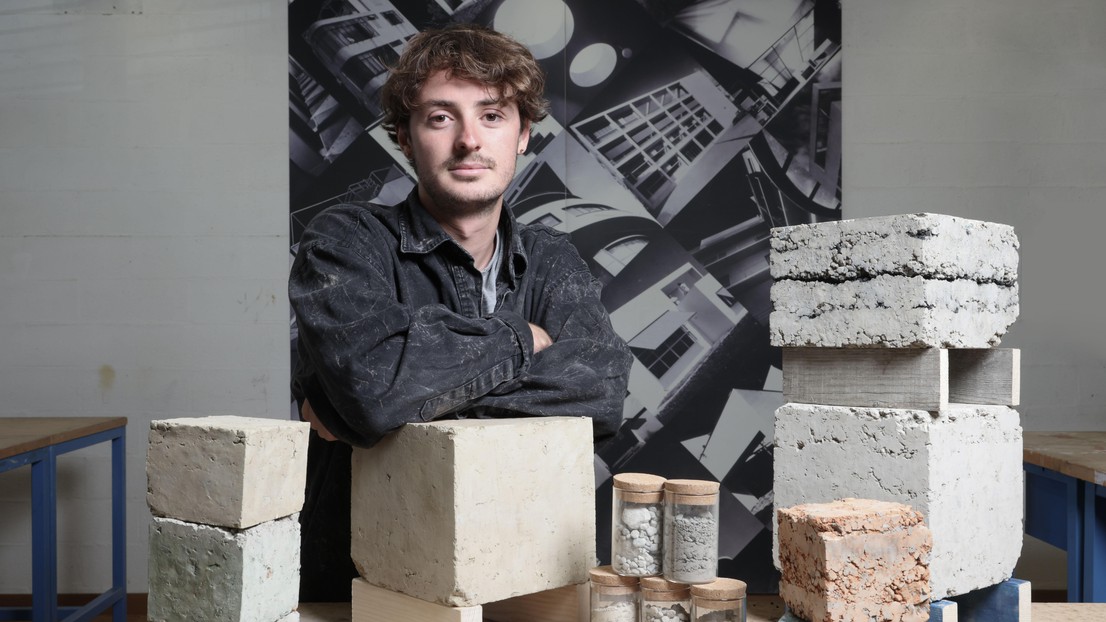 For his Master's project, architecture student Jeremy Morris assessed the life cycle of building materials in Vaud Canton. His research shows that the construction industry could shrink its carbon footprint by making more regular use of soil. Morris proposes three courses of action, which he will present at the Quinzaine de l'Urbanisme.


The construction industry accounts for 39% of the world's carbon emissions, 11% of which comes from manufacturing building materials such as steel, concrete and glass. The widespread use of concrete is one of the main barriers to reducing this high carbon footprint. Changing this established practice has become a priority for many environmentally conscious architects and engineers – including Morris, who studied the life cycle of concrete in Vaud Canton. He calls for a shift away from concrete and towards soil, proposing three courses of action to achieve this goal. He will present his findings at the Quinzaine de l'Urbanisme, an annual architecture and urban planning event that will be held in Geneva on 30 September.
Excavated earth is one of the biggest sources of waste globally. In Switzerland, a staggering 2 million m3 of soil – equivalent in volume to the Great Pyramid of Giza – is removed from construction sites in each canton every year. This soil, which is considered waste under Swiss law, is treated and spread on farmland, raising crop heights by several meters until, in many cases, the land becomes saturated. Morris, who is also a filmmaker, set out to explore how this sustainable, recyclable material could be put to better use in construction.
Changing the law
As part of his research, Morris produced a map of Vaud Canton showing sites associated with the various steps in construction-industry processes, from the quarries around La Sarraz, where earth is extracted for cement-making, to the Canton's 67 landfills. "In Vaud, cement manufacturers and earthworks contractors are one and the same companies," he says. "So they have no reason to recycle the excavated earth into construction processes." Morris visited these companies to shoot images as part of his Master's project.
As a first course of action, he proposes changing the law so that soil is no longer treated as "waste" but instead as a "resource." Morris explains: "Soil-based structures can be built and taken apart. That's much harder to achieve with concrete, which should really be used only for load-bearing sections of buildings and for civil engineering structures."
Concrete should really be used only for load-bearing sections of buildings and for civil engineering structures.
Support through funding
Despite its considerable environmental impact, concrete remains the most cost-effective building material – and it's significantly cheaper than soil. As a second course of action, Morris recommends that governments subsidize earth construction methods until a circular economy takes hold. "In a recent EU-funded project in France, around 400 new homes were built using soil extracted from construction sites in Paris," he explains, noting similar examples in Belgium. Switzerland already has relatively strong skills in earth construction but, according to Morris, these skills are under-used in practice.
Training and research
As a third course of action, Morris recommends setting up training programs in rammed earth and soil construction methods as a way to encourage existing practitioners to look beyond concrete and consider these alternative, sustainable and renewable materials. He also calls for similar changes to the degree programs for construction-industry professionals in Switzerland, adding that better-funded research into these methods would help further exploit their potential.
It's high time for a radical shift in how we think about and practice architecture and construction.
"I'm under no illusion," he says. "I know my recommendations would require a lot of effort. But it's high time for a radical shift in how we think about and practice architecture and construction. We need to improve cooperation among different systems as part of a transition to a more circular economy." Morris made his own earth bricks as part of his Master's project so that he could understand how the production process works and experience the end result with his own two hands. "Making my own bricks only strengthened my belief that earth construction is an elegant method – and that it's the right way forward."
References
Jeremy Morris, "The Living Ground. Vers la construction d'une nouvelle culture du matériau," EPFL Master's project supervised by Dieter Dietz and Daniel Zamarbide, EPFL, 2022.
---
---