Learning to "sell" a prototype designed in just a few weeks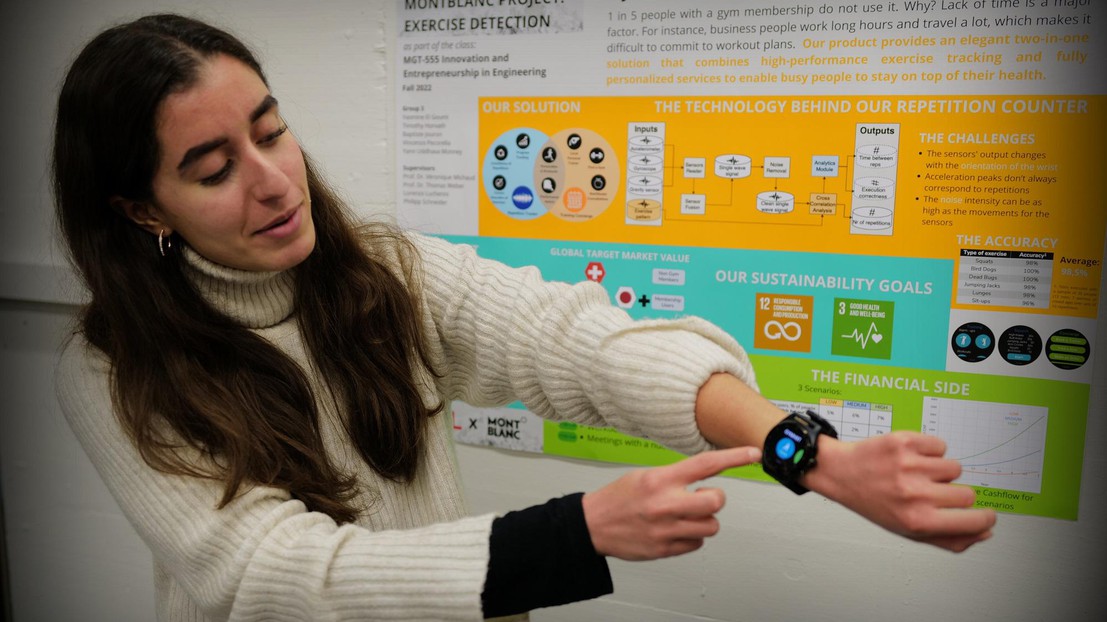 For the last four years at EPFL, a Master's course jointly run by the College of Management of Technology and the School of Engineering has been winning over students seeking a course that meets the needs of local industry.

Teams of focused and slightly nervous students stand before a jury of four experts in an EPFL lecture room in December 2022. Clutching their prototype, they have just fifteen minutes to explain how their solution meets the needs of the company it was created for, not only from a technical standpoint, but also with a financial one. One team explains the reduced-size climbing skins they have designed for skiing, while another presents a connected box, created for a luxury watch brand. In this final day of competition within the Master's course in Innovation and Entrepreneurship in Engineering, offered jointly by the College of Management of Technology (CDM) and the School of Engineering (STI), each student puts forward their carefully honed arguments. The jury asks them about their choice of material or how well thought out their feasibility study is. This realistic exercise mirrors the sort of situation an entrepreneur might expect to face when looking to secure funding for their new product.
"The idea is to strengthen cooperation between students from different faculties by bringing together aspects of management and engineering. Our goal is to create a real-world scenario with an industry-centered challenge at its heart."
This semester-long course has been in place for four years. Originally the brainchild of the deans of CDM and STI, the course has been run by professors Véronique Michaud (STI) and Thomas Weber (CDM) since its inception, and soon saw success. "We had 20 students registering in the first year, and 50 by the second year," recalls Véronique Michaud. Students now need to write a cover letter as part of their application if they hope to win a place on the course and benefit from ten hours of teaching each week, including eight hours working on the practical project. "The idea is to strengthen cooperation between students from different faculties by bringing together aspects of management and engineering. Our goal is to create a real-world scenario with an industry-centered challenge at its heart", explains Thomas Weber.
From start-ups to multinationals
Around twenty local companies participate in the course, ranging from start-ups to multinationals. These include companies working in healthcare, timekeeping and food technology. They ask groups of students to find concrete and economically viable solutions to the major challenges, based around a specific topic, such as this year's topic of sports technology. "These can't be projects where intellectual property might be at risk. In exchange, the companies undertake to check in with the students every two weeks. This comes with its far share of joy and frustration, as their expectations don't always mesh with the ideas the students come up with," notes Véronique Michaud. The feedback from both sides has nonetheless been positive, and the partner companies see the course as a hotbed for soon-to-graduate engineers. "The course teaches teamwork and how to adapt to and manage unexpected circumstances. Each student has to complete a number of steps, from designing a prototype on paper to realizing that they're missing an important part it needs to work and quickly responding with an alternative solution."
These are the exact skills that employees are looking for in young graduates "as they'll face even more constraints alongside these," note Véronique Michaud and Thomas Weber. "That's why we're strengthening the interdisciplinary aspect. The students naturally have an excellent good technical grounding, but we're also making them very employable."
In four years' time, the course will have given rise to around thirty prototypes. None of them have yet got as far as going onto the market, but some of them are still being developed, such as a water purification project, which has been taken on by scientists who specialize in that field. The course is expected to retain the same number of students per cycle in order to ensure that students receive personal attention. Another goal for developing the course is to return to making prototypes for solutions that link more closely with the engineering education provided at STI. "Over time, companies tend to ask for more and more IT-based tools, such as applications and software. We want to turn their focus back onto the areas that we teach."
"We each took on tasks suited to our areas of expertise"
Finding a smart solution for attaching a reduced-size climbing skin to skis: That was the challenge made by Pomoca, a company based in Vaud, and accepted by the team of students who would eventually come to win the competition at the end of the Innovation and Entrepreneurship in Engineering course. "There were six of us in the team, and we had expertise in mechanics, material science and microtechnology," explained Martin Maggi, a member of the winning team. "Two of us had a management background, which was an advantage." Team-mate Jules Mainand added: "We quickly split the task up based on our skillsets and, just like that, we were in business." Working in a team, learning how to create a video montage on the fly, and handling a 3D printer were some of the exciting experiences that they group got to enjoy in the space of just a few weeks. "It's really rewarding to start completely from scratch and end up with a working prototype that we created by ourselves. In the other projects I've been involved in at STI, I've always been working with pre-existing data," concludes Martin Maggi. The experience was all the more valuable, as he secured an internship at Pomoca after completing the course.
---
---