Hydroptère.ch, lab boat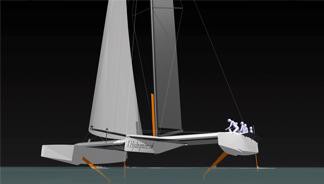 A close cousin to l'Hydroptère, the flying boat that's racing on the ocean in the quest to break speed records, l'Hydroptère.ch will let developers test geometries and behavior in variable conditions much closer to home, on Lake Geneva.

The team's ultimate goal is to develop l'Hydroptère maxi, which could circumnavigate the Earth in 40 days. EPFL has been the official project advisor since 2006, and the School's involvement has led to the development of the scientific team in Switzerland and the creation of a Design Team, a part of which is based on campus.
---