FIRST LEGO League at EPFL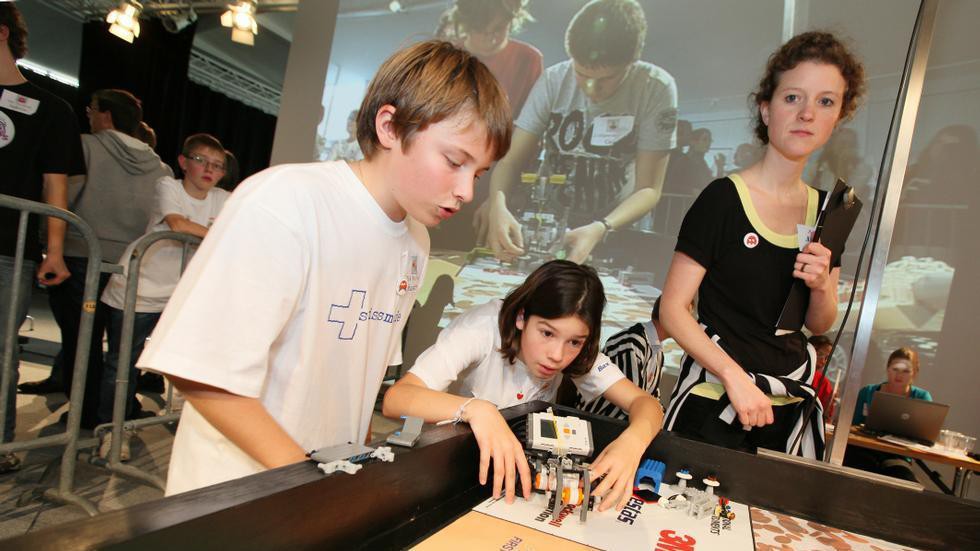 Eleven teams were competing with their LEGO robots on Saturday at the Rolex Learning Center.

No bruises, bumps or blood at the end of this "combat" – only the pleasure of taking part for the hundred or so competitors, aged from 10 to 16 years old, and their many supporters. The robots attempted to accomplish their missions, on the theme of "Body Forward", in a sometimes highly charged atmosphere.

The FIRST LEGO League was created 11 years ago and today takes place in 56 countries. It brings together around 200,000 young people who share the same passion for robotics. This first regional event was organized by the Equal Opportunities Office at EPFL: "We created the Centre Roberta a year ago, with the slogan 'Robots are for girls as well!'. So it seemed logical that they take part in this adventure." said Farnaz Moser, Director of the office. The result was the creation of Tek No Feel, the most feminine team in the competition.

Tess, Linda, Amélie, Sébastien and Lucien have been meeting every Saturday from 13:00 to 19:00 since September. "As we're beginners – it's the first time we've taken part – we built a basic robot and tried to make some improvements," said Lucien, 12, who was initially apprehensive about starting to work with "intelligent" LEGO bricks. To enable them to build an autonomous robot, each team is provided with the same kit and the same programming software.

"These robots are really unpredictable! – at home they work perfectly, but when in competition they're all over the place." Adrienne Tamas Perera, the mom of a participant and team coach, in nonetheless proud of her troops, who managed to remain calm despite the high level of tension that reigned during the matches.

Each year, a different theme is chosen. This time, biomedical engineering was the favored domain. The program consisted of repairing a fracture; installing a pacemaker and recognizing sick cells, as well as many other challenges. The objective is that each team collect the maximum number of points throughout the day, and to try in three sessions to accomplish as many missions as possible. The first three teams qualify for the national final.

At the end of this intense day, Tek No Feel finished 7th ex aequo. Rather disappointed perhaps, but pleased to have kept their team spirit going throughout these months of hard work. They'll definitely take part in the second event – meanwhile, it's pizza all round!

---
---