EPFL students recycle an old industrial site of Fribourg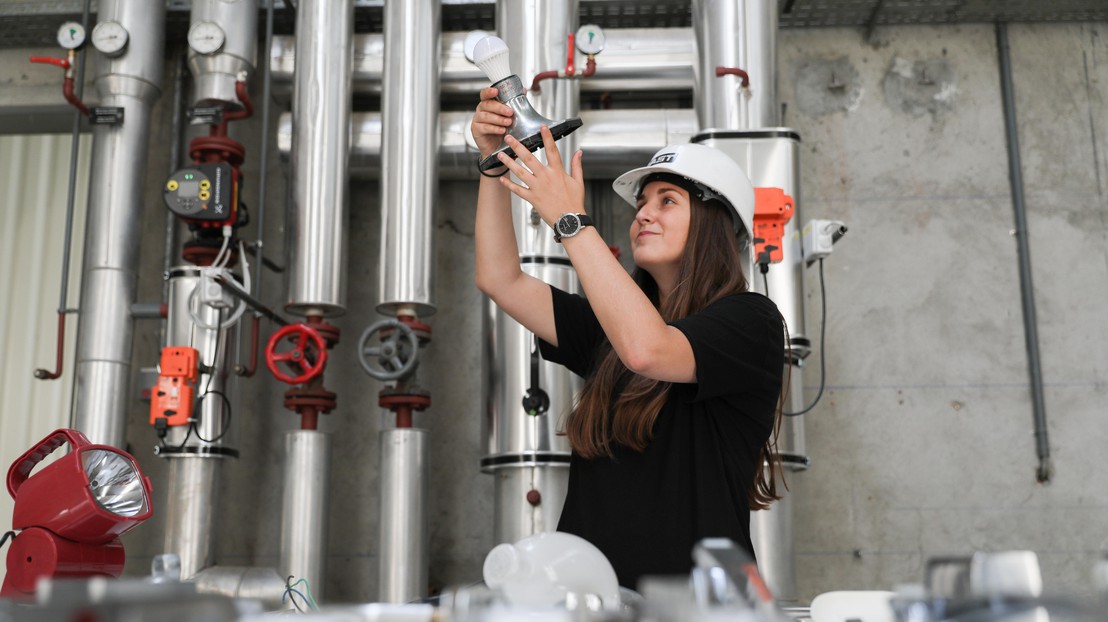 Architecture students from EPFL have built a pavilion out of materials recovered from an old research facility in Saint-Aubin, in Fribourg Canton. The structure will be inaugurated on 1 June and will be on display at the University of Lausanne for six months.

This past winter, EPFL associate professors Anja and Martin Fröhlich challenged their students to build a small pavilion using structural elements from an old industrial site. That pavilion has now been completed: it sits between the Amphimax and Génopode buildings on the University of Lausanne (UNIL) campus. It will be inaugurated on 1 June and will be used for six months as an exhibition space in partnership with Le Cabanon, an association run by art history students at UNIL.
In 2016, another group of EPFL architecture students led by Anja and Martin Fröhlich also built an art pavilion at UNIL. They used recycled materials too, but all from the dismantling of the International Olympic Committee's old administrative building, a Lausanne landmark. This year, the team led by the Fröhlich duo is focusing its energies on the decommissioned industrial site in Saint-Aubin, in Fribourg Canton.
Inventorying and brainstorming
Early in the 2017-18 winter term, the architecture students spent time at the site inventorying all the potentially reusable materials, ranging from the steel wall framing all the way down to the faucets, locks and door handles. Through this painstaking work, they were able to assess the extent to which the existing structures could be reused or eventually recycled – resources that would have been overlooked in a standard demolition project.
The students then came up with ideas for what could be built on the site, such as a sports facility, a textile workshop and processing plant, or an ecological center for sorting waste and producing renewable energy.
In the spring semester, the students moved on to a new task: designing an art pavilion using building materials from a section of the site that had been stripped of its economic value and was set to be demolished. Out of six designs, the best one – made mostly from wood – was prepared and developed on site before being taken and reassembled at UNIL. During the design phase, walls made out of concrete and recovered flagstones replaced the wood ones.
European Heritage Days
EPFL's interest in Saint-Aubin doesn't stop there: the students will convert part of the remaining complex into a museum-style exhibition as part of the European Heritage Days on 1 and 2 September. Visitors will learn all about the students' projects at Saint-Aubin, with a particular focus on their ideas for repurposing the buildings left empty since 2016.
Third edition
Every year, Anja and Martin Fröhlich, Berlin-based architects and co-directors of EPFL's Laboratory of Elementary Architecture and Studies of Types (EAST), have their undergraduate students experience an architectural project from design to delivery under the principle research through design. The catch? The students must learn to identify reusable parts of buildings that are slated for demolition. The goal is to instill in students the idea that craftsmanship with reused materials is an alternative and that sustainable development is about more than just energy efficiency. The Saint-Aubin project is the third spearheaded by the couple; the first two involved old buildings from the International Olympic Committee (in 2016) and the Swiss Alpine Club (in 2017).
Side event
Discover the work of EPFL's architecture workshops at the "Expo Ubiquitaire", SG building, EPFL, free admission:
Friday 1 June: 5:30pm-10pm. Guided tour at 6pm. Meeting point at the entrance of SG building, EPFL. After party at 9pm, East Lab Pavilion, UNIL.
Saturday 2 June: 12h-18h.
Press kit: http://bit.ly/EPFLpavilionUnil_2018


---
---