CYBER-DEFENCE FELLOWSHIPS : Lina Gehri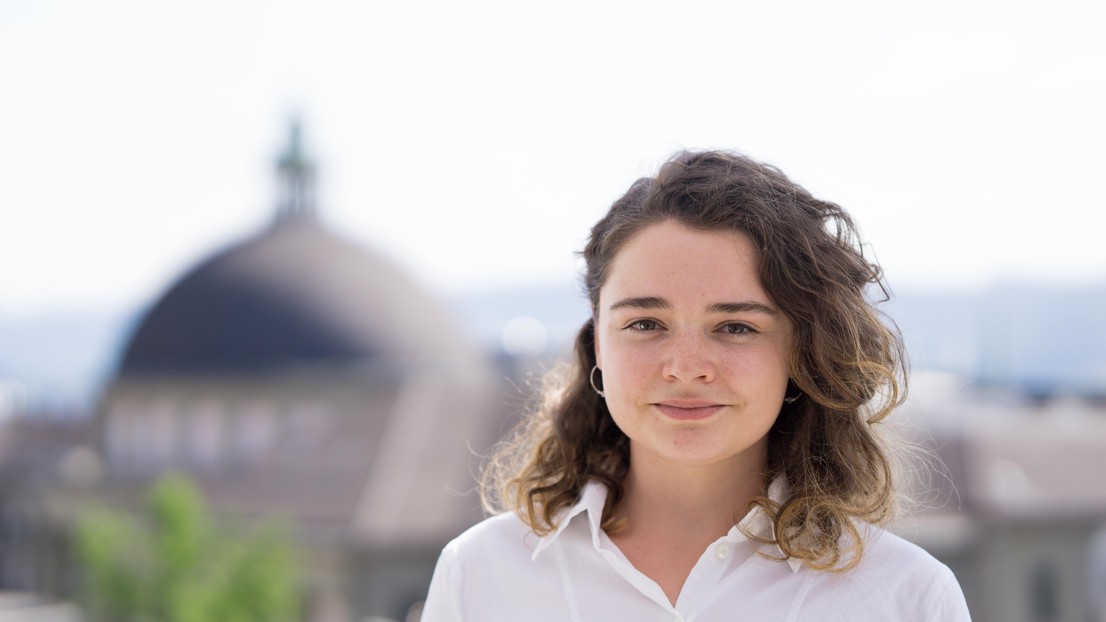 To promote research and education in cyber-defence, EPFL and the Cyber-Defence (CYD) Campus launched in 2020 the rolling call for Master Thesis Fellowships – A Talent Program for Cyber-Defence Research.

This month we are introducing you Lina Gehri, the recipient of the sixth CYD Master Thesis Fellowship. Lina is in the second year of her Master studies in the Department of Information Technology and Electrical Engineering, at the Networked Systems Group at ETHZ.
How did you find out about the CYD Fellowships and what motivated you to apply?
I had already decided to do my master thesis in collaboration with the CYD when my supervisor told me about the fellowships and encouraged me to apply. It seemed like a great opportunity, so I decided to give it a shot.
What is your CYD Fellowship project about?
I am using captured network traffic from a large cyber defence exercise called Locked Shields and machine learning to detect command and control channels. On the one hand, I am trying to improve the existing model for the Locked Shields environment. On the other hand, I want to find out how well the models work when they are moved to a different environment, and if they don't work what the problem is and how it can be solved.
What are the advantages of conducting your master thesis project at the CYD Campus?
The biggest advantage is that I get a lot of support from different people at the CYD. If I have a question or need some assistance, their combined experience and knowledge helps me greatly and many new ideas come up during discussions about my thesis.
This is closely related to what I enjoy most about the fellowship: meeting and learning from other people passionate about cybersecurity at the regular get-togethers, even though unfortunately this is quite reduced because of COVID.
Did you as a child dream of working in cyber-defence?
No, as a child, I was not especially interested in computers. I was in high school when I started thinking that a career in cybersecurity might be interesting. However, I only followed up on this after doing a bachelor's in Electrical Engineering and Information Technology. I developed confidence in my skills while doing my bachelor's degree and during my master's I took as many security-related courses as possible.
What is driving you to pursue research in cyber-defence?
First, I really enjoy learning new things about it. Second, I believe that cyber-defence will only become more important in the future and there will always be more challenges to solve and to find more ways to make systems and networks more secure.
What is the most important lesson you have learned in your scientific career so far?
Even if it just fails at a different point, it is still progress.
What are you most proud of in your career to date?
I think I spent my time at ETH well by putting enough work into my courses but also spending a lot of time volunteering in my student association AMIV and later gaining some hands-on experience by working 50% addition to my studies. It is crazy to think about what a completely different point I was at when I started studying.
Outside the lab, what do you enjoy doing most?
On the creative side, I enjoy calligraphy, hand lettering, and creating cards for my friends' birthdays and such. In addition, I like being in the mountains, where I, for example just read a good book while also having a nice view or to go skiing in winter.
What are your expectations about the CYD Fellowship?
I hope that in the last few months of my thesis we can go back to the office because even just conversing casually about what one is doing can lead to developing new ideas.
Could you share some tips with future applicants who are considering applying for the CYD Fellowships?
I would say if you are motivated to do your thesis in a cyber-defence-related field, do not hesitate to apply. It will not cost you too much time and if you are accepted, there are many benefits. If you do decide to apply, do so as early as possible, though.
Funding
The CYD Fellowships are supported by armasuisse Science and Technology.
---
---