Construction challenges in Bangladesh at a time of climate change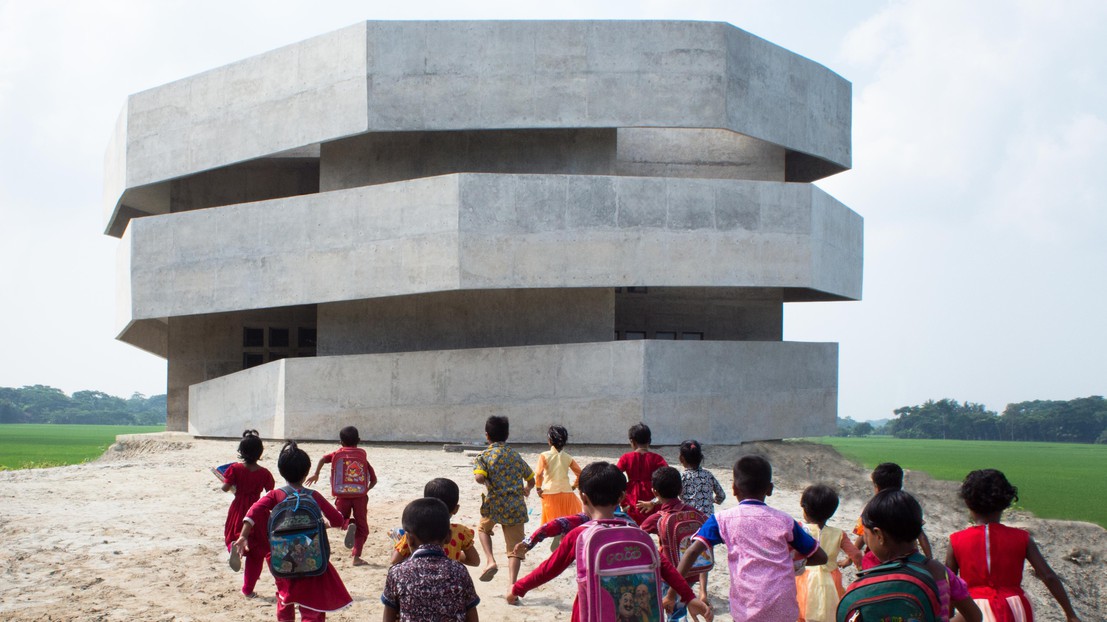 Archizoom is bringing "Faraway So Close" to Switzerland. This thought-provoking exhibition explores Bangladesh through the architectural universes of the URBANA practice and architect Kashef Chowdhury. After a preview on 23 September 2019, the show will be open to the public between 24 September and 7 December within the Archizoom space in EPFL's SG building. 

"Faraway So Close", a collection of models, photographs, films and plans, is the first European retrospective dedicated to Bangladeshi architect Kashef Chowdhury, who in 2016 received the prestigious Aga Khan architecture prize for his Friendship Centre on the flood plains of Gaibandha, in northern Bangladesh. An atmospheric installation will immerse the public in his construction process. Chowdhury himself will give a lecture at the exhibition preview on 23 September. 

Bangladesh's extreme complexity
Bangladesh is one of the most densely populated regions on earth and its river delta landscape is an area prone to flooding, cyclones and rising sea levels. This presents a major challenge, since buildings need to be designed to withstand these extreme weather conditions. The bungalow typology has a proven track record in tropical climates and is often used to address these issues.
Poetic and pragmatic architecture 
Kashef Chowdhury is keenly aware of the collapse of urban regions and cultural heritage due to abrupt climate change in his country, and seeks architectural solutions that benefit society and more specifically the people being pushed to its margins. His modern, pragmatic buildings include a raised village on the banks of the Brahmaputra River, a school in the Rohingya refugee camp in Ukhia, the Gulshan Society Mosque in Dhaka and the Cyclone Shelter in Kuakata. Using earth and bricks as his materials, he strikes a fine balance between functionality and sensuality, with a masterful treatment of light and space.
Faraway So Close
While inspired by Bangladesh's local context, Chowdhury's architecture translates globally: it deals with urgent contemporary matters such as the population explosion, climate change, migration and the development of rural potential. His architecture spans East and West, past and present, and raises people's awareness about many issues that previously seemed remote to them. "The issues facing Bangladeshi architects are gaining new relevance as the rest of the world confronts similar concerns," concludes Niklaus Graber, the exhibition curator.
Related events
21 September: Sarod recital with Rajrupa Chowdhury, during the Nuit des Musées
23 September, 6pm: Preview of the "Faraway So Close" exhibition, introduction by Niklaus Graber and introductory lecture by Kashef Chowdhury
7 October, 6:30pm: Lecture on architecture in Bangladesh by Niklaus Graber

The exhibition will be open to the public from Monday to Friday, 9:30am to 5:30pm, and on Saturdays, 2pm to 6pm; closed Sundays
Interview requests
Kashef Chowdhury will be in Switzerland from the morning of Saturday, 21 September, until the exhibition preview at 6pm Monday, 23 September.





References
Curators: Niklaus Graber, Andreas Ruby
Exhibition design: Niklaus Graber, Graber & Steiger
Clémence Dubuis, Archizoom
Photos: Hélène Binet, Kashef Chowdhury
Film editing: Marc Schwartz, schwartzpictures.com
 
---
Author:
Emilie Bruchez / Archizoom
---