A novel cell-based interface to fight neurodegenerative diseases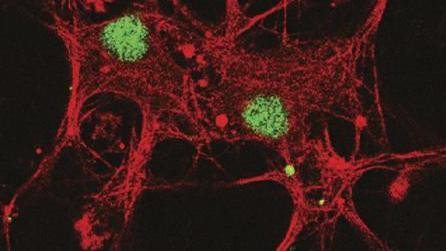 Researchers in EPFL's Brain Mind Institute have developed a novel platform that uses live, interconnected neurons to study the effects of Huntington¹s Disease on the cerebral cortex.

Huntington¹s is a fatal genetic neurodegenerative disease that strikes mid-life and causes abnormal movements, mood disturbances, and cognitive decline. A collaborative team of investigators from the Luthi-Carter and Markram labs developed the cellular platform to study how neurons in the cerebral cortex communicate with one another. They found that the mutated gene in Huntington's caused a decrease in a chemical signaling factor, which in turn resulted in reduced communication between the cortical neurons.
"In this situation, the cortex cannot integrate and convey information properly," explains Luthi-Carter.
This is the first time that these kinds of studies have been conducted on live, connected cortical cells outside the brain. In addition to improving our understanding of the disease mechanisms, the new platform can also be used to test possible drugs that could restore normal cell function.
The platform is being patented, and the group is partnering with Ayanda Biosystems SA, an EPFL spin-off company, to adapt it for use in screening potential drug molecules, and to extend its application to other neurodegenerative illnesses, such as Alzheimer's disease and Parkinson's Disease.
---