A masked start to the school year for 2,000 new EPFL students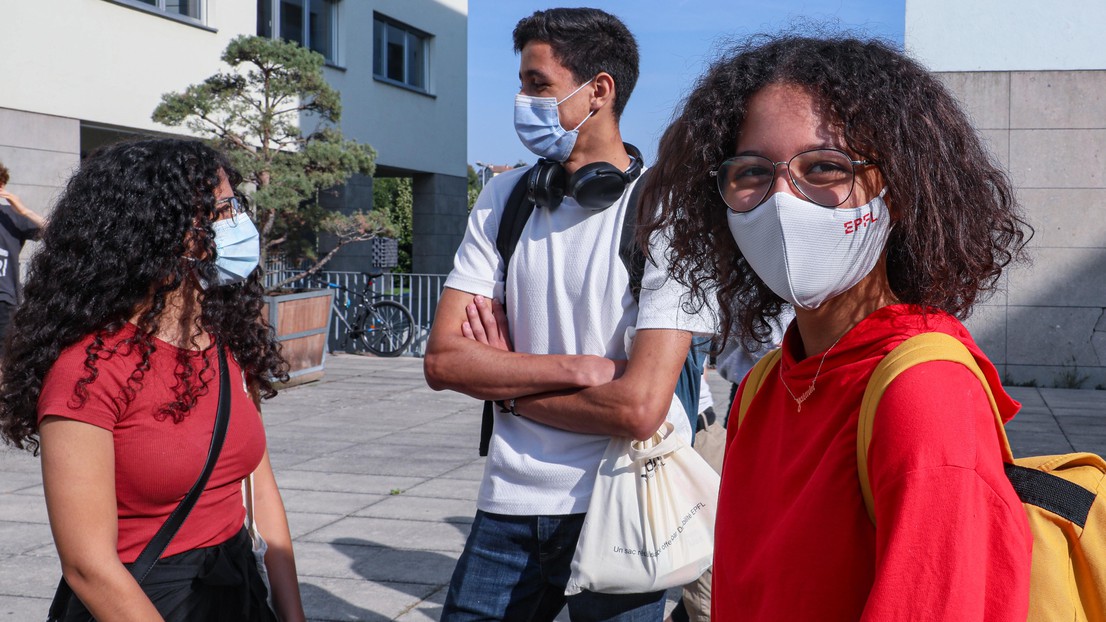 EPFL classes will start on Monday, 14 September. Thanks to a rotating system of in-person and online instruction, no more than a third of the student body will be on campus at any one time. And face masks will be mandatory.

This year, reading the faces of EPFL's 2,000 new and first-year students will be a special challenge. Emotions of joy, anxiety and surprise will be hidden behind the masks they – along with their teachers and other staff members – will be wearing. In view of the worrisome public-health situation, the School has decided to make masks mandatory at all times within EPFL buildings. This new academic year will therefore be cloaked in white, like the cloth face masks that EPFL will provide to both students and staff.
"We wanted to do all we could to avoid another lockdown at EPFL where everything has to take place online. That was one of the big takeaways from the crisis this spring," says Pierre Vandergheynst, EPFL's Vice President for Education. That why he and the other members of EPFL's management team decided to have just one-third of the students physically present on campus on any given day. They divided the student body into three groups and set up a rotating system whereby each group comes to EPFL and attends classes in person every third day. On the other days, students can stream lectures or watch them at their own pace, as all classes will be recorded.
"All teaching was done remotely last semester and our faculty learned a great deal from the experience. Above all, they learned that online instruction has its limits, but can also be useful in many subject areas. The flipped classroom concept, for example, turns out to be an interesting way to teach," says Vandergheynst. The rotating system for this new school year – which combines online and in-person instruction – reflects these assessments.
Moreover, to encourage interaction between different fields, students involved in cross-disciplinary projects will be allowed to come and work on campus. New MAKE projects have been launched; these include a Horological Competition and plans to develop a space rover, a catalog of objects orbiting Earth, and a new type of camera that can measure body temperature. "For our students, being able to apply the theory they learn in class to hands-on projects is essential. Based on what we saw this spring, we will try to keep projects going, even in the event of a second wave," notes Vandergheynst.
A steady increase
The number of new Bachelor students currently stands at about 2,000, but official figures for the new school year will not be available until November. The overall student body (Bachelor and Master's students) is expected to grow by 5%–6% this year (9,047 in 2019) and 1,800 students are expected to start at EPFL.
---
Author:
Laureline Duvillard
---